Whether you are new to the Pikes Peak Region or you are a long term resident, you will want to be in the know when it comes to the New South End of Colorado Springs⁠!
Colorado Springs is the jewel of the Front Range and has recently been praised for its healthy outdoor lifestyle, affordable living, and growing job market. The city is projected to surpass Denver as the largest city in the state by the year 2050.
Fueling much of this growth is the revitalization of the downtown area, specifically the south end. Once labeled downtown's sore shoulder, things are really beginning to evolve. Business investors and developers are seeing the potential in this once neglected part of town and it is turning into something quite extraordinary. Don't expect to find downtown streets lined with cookie cutter business facades. Rather, you will find an eclectic mix of hip restaurants, specialty shops, and new lodging options for a feel that will be unique and welcoming for both visitors and residents. What can you expect to see in the New South End's future?
LODGING
Marriott – A 259 room double branded hotel just broke ground in June. 
Kinship Landing – A boutique hotel offering shared dorms, private rooms and luxury suites. Meeting spaces, food options and a bar will all be part of this unique hotel experience.
SPORTS AND ENTERTAINMENT
Colorado Springs Swithbacks Outdoor Stadium – A new stadium for the Colorado Springs Switchbacks will not only seat 10,000 people for sporting events, but will seat 20,000 people as an entertainment venue.
Edward J. Robson Arena – An indoor 3,000 seat arena to host ice-based sports, as well as entertainment events.
DINING
The New South End is becoming a hot spot for the local food scene. Here is a sampling of just some of the newer establishments:
Streetcar520, The Coffee Exchange, Atomic Cowboy, Denver Biscuit Co., Fat Sully's Pizza, Coquette's Bistro & Bakery, Cork & Cask, Dos Santos Tacos,  Frozen Gold, and Loyal Coffee.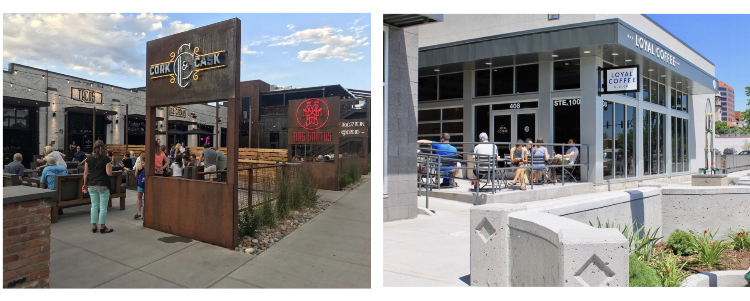 The New South End will be a place to gather—a place to call community. NuSo, as the locals call it, is becoming the 'new' downtown.
Whether you're looking to buy or sell in Colorado Springs, we are here for you. Contact our team today!